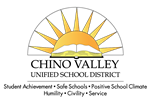 Maintaining Excellence
in Chino Valley Schools
Frequently Asked Questions about Measure G
Q: What is Measure G?
A: On August 4, 2016 the Board of Trustees unanimously voted to place Measure G, the Chino Valley Unified School District Student Achievement, Repair and Safety Measure on the November 2016 ballot. Measure G will make urgent and basic repairs to our aging schools, improve technology, and classrooms to help us to maintain the high level of academic excellence our schools provide.
Q: Why was Measure G placed on the ballot?
A: We are proud of our award-winning schools which significantly outperform the County and state average. Our teachers have been recognized as educators of the year on the County and the state levels. But most of our schools were literally built decades ago, with some built in the 1950s, and need basic health and safety improvements. If approved by voters, Measure G will provide the basic improvements our schools need.
Q: Will Measure G help improve education in our schools?
A: Yes. Full-service elementary and junior high schools are essential to meet children's basic social, emotional and academic needs. If approved by voters, Measure G will provide repaired and safe space for before- and after-school tutoring, computer, math and science labs, the arts and physical education, ensuring students and their families get the support they need to succeed.
Q: Will Measure G help local students prepare for jobs and careers?
A: Yes. Many students take part in our career education programs that train them for jobs in health care, computer science, and law enforcement. If approved by voters, Measure G will upgrade and expand classrooms and equipment necessary for quality job training opportunities, allowing students who do not go to college to acquire real-world skills and compete for good jobs when they graduate.
Q: What basic school repair needs will Measure G address?
A: Our decades-old schools require basic improvements. Many have had past problems with lead found in the water of school drinking fountains and faucets. If approved by voters, Measure G will replace rusty, corroded pipes and old plumbing to continue to ensure safe, clean drinking water for students. Other health and safety improvements that Measure G was crafted to address include removing asbestos, lead paint and other hazardous substances, updating fire safety, repairing deteriorating classrooms and fixing leaky roofs.
Q: What priorities for our schools will be addressed by Measure G?
A: Residents believe strong communities and strong schools go hand-in-hand, with improvements to neighborhood schools strengthening local property values. Top priorities included in Measure G for our schools include:
Retaining and attracting quality teachers

Ensuring safe drinking water

Removing lead from drinking fountains and faucets

Repairing leaky roofs

Removing asbestos and lead paint

Replacing deteriorating, rusty pipes

Provide competitive, 21st century learning
The full text of measure G, including project list, can be found online. Please click here to read the full text of the Chino Valley USD Ballot Measure.
Q: How much does Measure G cost?
A: Measure G is a $750 million education bond that will create a dedicated source of local funds to repair and upgrade our own neighborhood schools. Measure G will cost approximately $60.00 per $100,000 of assessed, not market, property value.
Q: When is the election?
A: Election Day is November 8, 2016. The last day to register to vote is October 24, 2016.
Q: How can I get more information?
A: To learn more about Measure G or to request a factual community presentation, visit our website www.chino.k12.ca.us or contact Julie Gobin at (909) 628-1201, ext. 1616 or julie_gobin@chino.k12.ca.us.
---