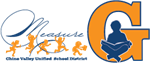 Measure G Citizens' Oversight
Committee to meet March 21
The Citizens' Oversight Committee for the Measure G school construction and renovation bond will meet for the first time, 5:30 p.m. Tuesday, March 21 in the Chino Valley Unified School District Board Room, 5130 Riverside Drive, Chino.
The meeting is open to the public.
Measure G was approved by voters in November.
The purpose of the Oversight Committee is to review and report to the public on the bond expenditures, advise the public as to the District's compliance with Prop. 39, and ensure that no bond funds are spent on teacher salaries or District operating expenses. Additionally, the Committee receives and reviews annual financial audits.
Members of the Oversight Committee were appointed by the Board of Education in February, based on representation of the business community within the District's boundaries, a senior citizens' organization, bona fide taxpayers' organization, parent/guardian with a child enrolled in the District, and parent/guardian of an enrolled CVUSD student and active in a parent-teacher organization. There are also at-large members. Additionally, the CVUSD Board of Education has invited representatives of the cities of Chino, Chino Hills, and Ontario to serve on the Oversight Committee because those cities are within the District boundaries.
For a link to the Measure G Citizens' Oversight Committee March 21 agenda, click here.
For the video of the Measure G Citizens' Oversight Committee March 21 meeting, click here.
---