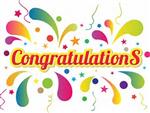 Rolling Ridge custodian nominated for State award
Longtime Rolling Ridge Elementary School custodian Patrick Gonzales has been named San Bernardino County Superintendent of Schools' nominee for the California Classified School Employee of the Year in the category of Facilities, Maintenance, and Operations.
Gonzales of Hesperia has been custodian 27 years at Rolling Ridge in Chino Hills.
He is among six classified employees from school districts within the county to be nominated for the state award. Other nominee categories are child nutrition, office and technical, para-educator and educational assistant, support services and security, and transportation.
The six classified employees will be honored by the San Bernardino County Board of Education at 4:00 p.m. Monday, April 10 at the Roy C. Hill Education Center, 601 North E Street, San Bernardino. Guests are asked to arrive by 3:30 p.m. for the ceremony.
Click here to see the poster the school distributed to announce his nomination.
(March 22, 2017)
---