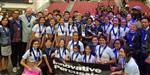 Canyon Hills Junior High
percussion team is 2017

SCPA Junior Champions
Congratulations to Canyon Hills Junior High's percussion team for winning the 2017 Southern California Percussion Alliance Junior Championship, April 8 at Cal State, San Bernardino.
The team from Chino Hills also took first place in Effect-Music; second place in Music; and third place in Effect-Visual.
Canyon Hills team was led to victory by Sean Gordon, Jonathan Wicks, Vanessa Vendiola, Anna Ryu, and Jeffrey Wiley (Canyon Hills' band director).
Townsend Junior High in Chino Hills took second place in the Championship, as well as a first place in Music, and second places in Effect-Music and Effect-Visual.
Woodcrest Junior High's percussion team from Ontario also competed, taking 11th place.
Twelve junior high and middle school percussion teams from all over Southern California competed in the event.
Pictured: Canyon Hills Junior High's percussion team wear the medals they earned as the 2017 Southern California Percussion Alliance Junior Champions. (Photo courtesy of Mary Dona-Paras)
(April 11, 2017)
---