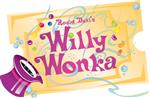 Musical "Willy Wonka"
coming to Ayala High
April 19-22, 27-29

The Ayala Theatre Company will present Roald Dahl's "Willy Wonka," 7:08 p.m. April 19-22 and April 27-29 in the Ayala High multi-purpose room, 14255 Peyton Drive, Chino Hills. A matinee will be held 2:08 p.m. Saturday, April 29.
General admission to the musical about a boy, a golden ticket, and an eccentric candy maker is $10. Ayala High students, staff members, and senior citizens will be admitted for $5. There will also be a special student day admission of $2 on Wednesday, April 19 only.
Click here to see the presentation's flyer.
(April 13, 2017)
---