CSU and UC Course Requirements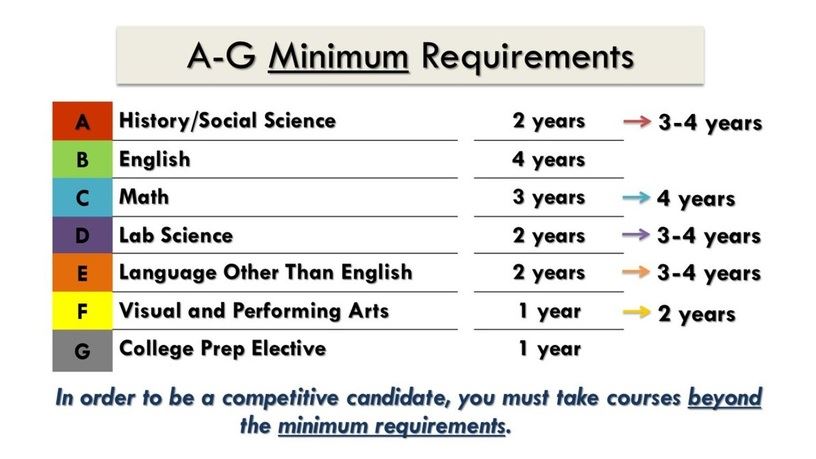 To be eligible for CSU or UC admissions, students MUST complete the minimum requirements. Competitive candidates will complete more than the minimum requirements.

A-G Minimum Requirements

A. History/Social Science--2+ years, including 1 of World, 1 of US and/or Government; Recommend 3-4 years
B. English--4 years of college preparatory English
C. Mathematics--3+ years of including topics covered in basic and advanced algebra and two-and three-dimensional geometry; Recommend 4 years
D. Laboratory Science--2+ years of laboratory science in at least 2 of the 3 disciplines of biology, chemistry, and physics; Recommend 3-4 years
E. Language Other than English--2+ years of the same language (other than English); Recommend 3-4 years
F. Visual/Performing Arts--1+ years of dance, music, or visual arts; Recommend 2-3 years
G. College Preparatory Elective--1+ years (an additional year of any requirement above or other elective)

To receive "A-G" credit, a high school course must be certified through the CSU/UC course approval process. To be considered for admission to a UC or CSU, high school students must take a minimum of 15 UC approved college preparatory classes. Students must earn a minimum of a "C" grade in the A-G courses in order for the course to count towards meeting the requirement.

To be eligible for admission to a University of California campus, students must also earn a grade point average (GPA) of 3.0 or better in these courses.

*A grade of 'D' will earn a student credit toward high school graduation, but NOT toward the A-G requirements.