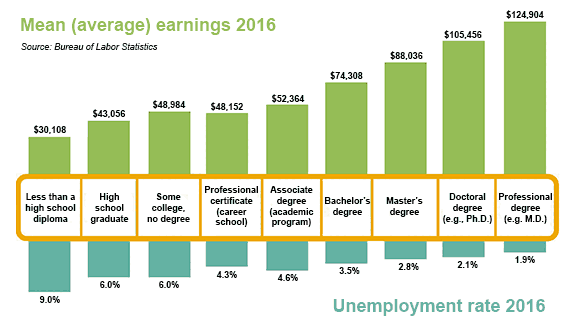 Our first priority is to support you in earning your high school diploma, but we're also striving to prepare you for life after high school. Not all occupations require college coursework or degrees, but many do these days. Students often have many misconceptions about getting into college, whether they can afford college (yes you can!), and how they will survive when they arrive at their new campus. These resources are only the beginning of how CHS Counselors can help you achieve your college dreams.

Considering Your Options


There are many opportunities to further your education and skills. Take a moment to do a little planning and explore your options, including "reach", "target", and "likely" schools based on your academic profile.

How to Get Admitted to College

Community Colleges are the most affordable options to start your higher education and do not require students to have completed A-G subject requirements, but it is advised students do so. The California College Promise Program allows high school students to attend one--possibly two years--of community college for free. These links will take you to general information on enrolling in one of the local community colleges:

Chaffey College Application Steps


Chaffey College Panther Promise

Mt. San Antonio College (Mt. SAC)

How to complete the Mt. SAC Application (YouTube video)

CCC Apply (Link to all the community colleges in California)

---

In general, ALL 4-year institutions will REQUIRE students to meet and/or exceed A-G Subject Requirements.

---

California State Universities (CSUs)--The CSU system strives to be an affordable higher education option for students to earn their bachelor's degree. Students MUST be A-G prepared to be considered for admission, but other requirements may exist for certain schools and/or programs. Local CSUs include CSU San Bernardino, California Polytechnic University, Pomona (Cal Poly Pomona), and CSU Fullerton, but there are 20 other CSU campuses throughout the state.

The University of California (UC) system includes schools like UC Riverside, UC Irvine, UC Los Angeles, UC San Diego. Students MUST be A-G prepared to be considered for admission, but should also consult their campus(es) and majors of interest to see if additional preparation is required.

UC Insight Questions

UC campuses virtual programs for admitted students:

https://mailchi.mp/ucop/special-announcement-virtual-resources-for-admitted-students

UC campuses virtual tours:

https://admission.universityofcalifornia.edu/counselors/files/campus-virtual-tours.pdf

Private liberal arts universities and out-of-state schools often require students to be A-G prepared, but students should consult the individual schools and majors to ensure they meet all prerequisites for admissions. Some private and/or out-of-state colleges use the Common App, such as Chapman University, Arizona State University, Claremont McKenna University, University of Southern California, Harvard, and more. The Common Black College App allows students to apply to 55 Historically Black Colleges and Universities (HBCUs) for one low application fee.