Welcome to Ms. Kneip's Distance Learning Classroom for school year 2020/2021!

For CVUSD Parent and Student EdTech Classroom Resources, please click HERE (click on the link).

For our students with special needs, please CLICK HERE to read important information about Special Education Family Resources.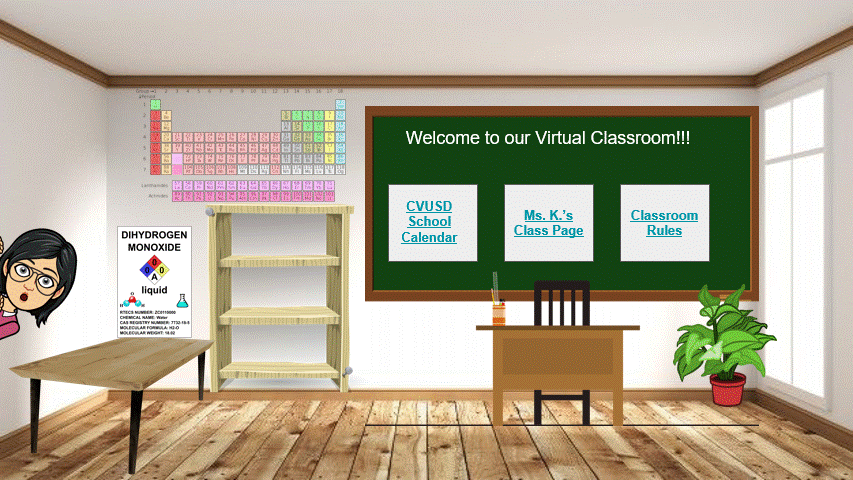 Chino High Student Online Access: CHS Online Access

Ms. Kneip's Contact Information: Maria_Kneip@chino.k12.ca.us

Ms. Vargas' Contact Info: Maria_Vargas@chino.k12.ca.us

Office Hours Meet Link By Appointment

Joining Office Hours Info: CLICK HERE

(Office Hour Meet Link Code is in the Stream tab in the Google Classroom)

Tuesdays and Thursdays @ 7:30 - 8:15 am

Wednesdays and Fridays @ 1:35 - 2:20 pm

I can be reached 24/7/365 via email for immediate assistance

Student User Guide to Class Link: CLICK HERE

Find Your Classroom HERE

Your Assignments are listed in Google Classrooms and Pearson's Savvas Realize Techbook. Khan Academy assignments will be added later.

IMPORTANT!!!

BEFORE CLICKING ON THE MEET LINKS FOR GOOGLE CLASSROOMS, MAKE SURE YOU ARE ON YOUR DISTRICT ACCOUNT. HOW TO CHECK IT? LOOK ON THE UPPER RIGHT CORNER OF YOUR SCREEN AND LOOK FOR THE THE CIRCLE BESIDE THE 3 DOTS. YOU SHOULD HAVE YOUR DISTRICT ACCOUNT INITIAL INSIDE THE CIRCLE.

Period 1 : Meet Link CLICK HERE

Period 2 : Meet Link CLICK HERE

Period 3 : Meet Link CLICK HERE

Period 4 : Meet Link CLICK HERE

Period 5 : Meet Link CLICK HERE

Period 6 : Meet Link CLICK HERE

How to screen shot an assignment from an interactive website: CLICK HERE

Distance Learning Expectations: CLICK HERE


EVERYTHING YOU SAY IN YOUR POST WILL BE VISIBLE TO YOUR TEACHERS, EVEN AFTER YOU DELETE IT

NEXT GENERATION SCIENCE STANDARDS FOR High School

The Interactive Periodic Table
Let's Talk!
How do you like our new Distance Learning Classroom? Do you like / not like it? Why or why not? Please let me know :)