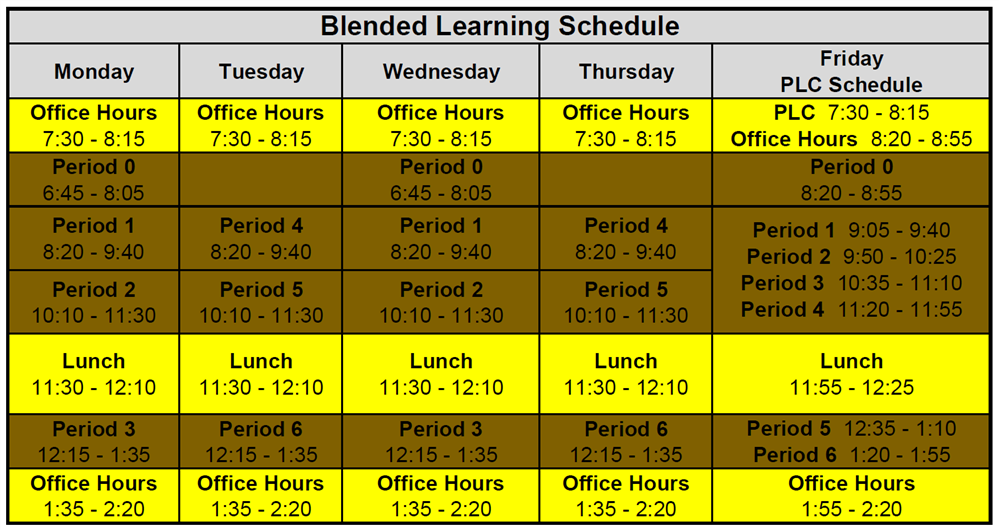 Welcome to Mrs. Deming's

Distance Learning Classroom Landing Page

Our instructional plans, work routine, and calendar will be in Google Classroom. We will be using Zoom for our LIVE class sessions and Google Classroom for assignments.

Find your class period below. You've already been loaded into Google Classroom and the link to our LIVE Zoom sessions is securely posted there.

Now that you are signed up for Google Classroom,

let's talk about EXPECTATIONS!

Let's Talk Grades

Assignments are tracked through Google Classroom but grades are generated through TeacherEase and reported to Aeries. Early in the semester grown-ups and students are sent an invitation to TeacherEase where they can see all of their students work. Emails are sent using the email communication that is reported to Aeries during registration. Anyone who would like me to send their invitation to another email address should send an email to annette_deming@chino.k12.ca.us to make that request. TeacherEase gives students a standards-based and 4-point rubric view. It also lets grown-ups and students know about any missing assignments or assessments.

Once students have been asssessed with the 4 level rubric, they are then given a letter grade. Levels of achievement are then given a number and percentage equivalent.

**REMEMBER** Any student who would like to initiate a student-driven reassessment request, or turn in missed work, must do so during my office hours.

Contact Information

Phone: (909) 591-3902 x 4824

Virtual Office Hours: DURING THESE HOURS ONLY!

Friday: 7:20 am - 8:55 am (Click here to meet with me)

Tuesday - Thursday's 1:35 p.m. - 2:20 p.m. (Click here to meet with me)

Please be patient in the waiting room. I'm most likely meeting with someone else before I allow your entry; I honor privacy.

*Office Hours are Subject to Change

*I am committed to responding to all student and parent emails within 24 hours (during school hours) Monday - Thursday. Friday communications after 1:35 p.m. won't be answered until Monday. Communication of ANY kind, after 4:00 p.m. (M-Th), will be answered the following school day.

MRS. DEMING'S CLASSROOM SUPPORTS

Mrs. Deming believes in supporting and teaching her students with clear and consistent expectations, rules, goals, and modeled behavior. When students master the expectations, rules, and goals of the classroom they are continuously rewarded. Understanding our classroom expectations and following the rules makes being in the classroom fun, safe, predictable, and harmonious.

---

WELCOME BACK TO SCHOOL! It's going to be an interesting year, but we'll do it together! Make sure to click the information tabs on the left of this landing page to get more information about your particular course--I teach A LOT of different classes!
Announcements
The Six Week Grades are in. Please make sure you've accepted your email invitation to view grades through TeacherEase. Also, please review the grade breakdown below and on the updated syllabus on the Parents Tab.

For technological difficulties (devices, username/password, online tools) call the CVUSD Hotline: (909) 628-1202 x1080 or email communitysupport@chino.k12.ca.us between the hours of 8 AM and 3 PM, Monday through Friday.

*This hotline and email are NOT for general information or homework help!

CAPTURE IT!

Upload your screenshots and mask selfie's on the FIRST DAY OF SCHOOL, then download the new Balfour Image Share App, and start uploading. YOUR PHOTOS COULD END UP IN THE YEARBOOK!

USE CODE: 129728

to identify you as a

STUDENT!