AFTER SPRING BREAK 10 DAY SCHEDULE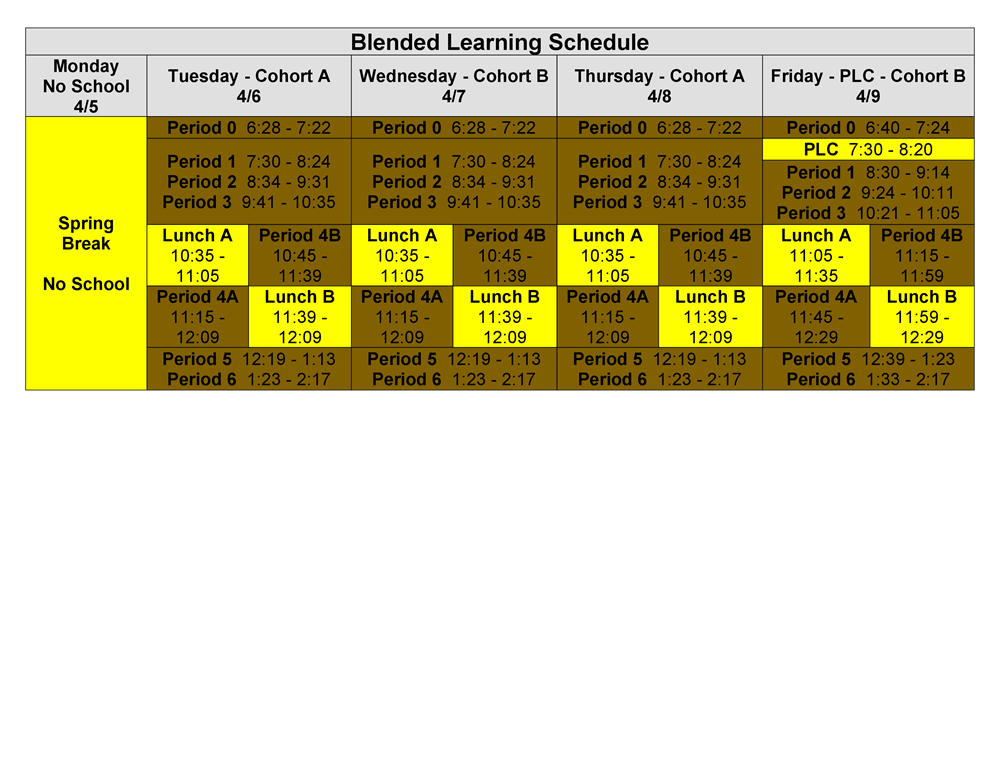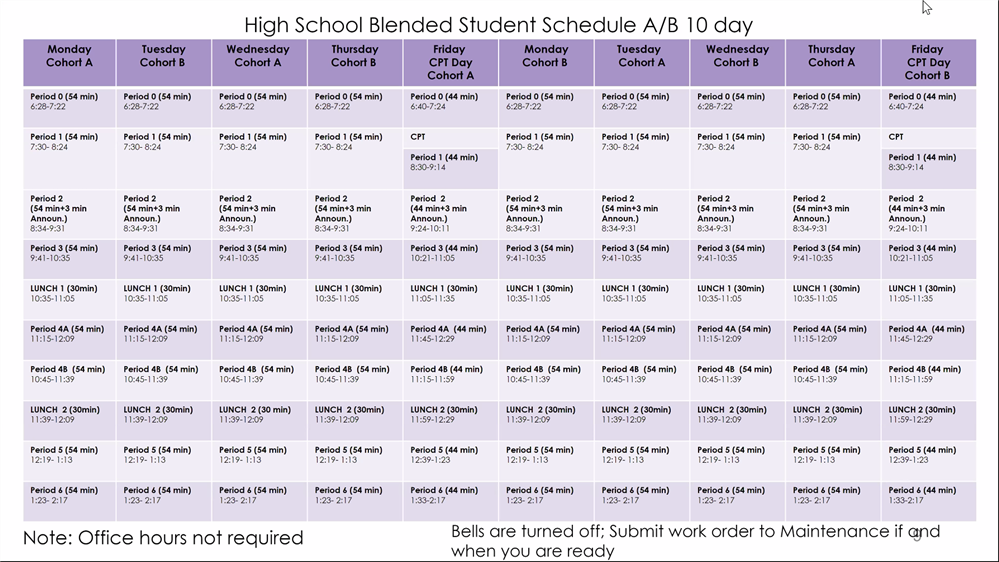 Welcome to HOGWARTS and

Mrs. Deming's

Blended Learning Classroom Landing Page

Our instructional plans, work routine, and calendar will be in Google Classroom. We will be using Zoom to support our class when needed and Google Classroom for assignments.

Find your class period below. You've already been loaded into Google Classroom and the link to our LIVE Zoom sessions is securely posted there. Look for these two emojis: 🖥⭐️

Now that you are signed up for Google Classroom,

let's talk about EXPECTATIONS! WELCOME TO HOGWARTS - CLICK FOR YOUR UPDATE

Let's look at our 2nd Semester Schedule

Make sure you pay attention to the non-negotiable assessments.

They are marked with a red siren emoji. 🚨

You'll also notice that anything with a hyperlink is an additional resource for your learning.

You can use it throughout the semester or as a review.

Let's Talk Homework

Assignments are assigned on Monday as asynchronous work. Synchronous work is done as a written or discussion-based assessment IN CLASS and in a small group setting. Homework is for practice. The more you practice, the easier the assessments are and the more successful you are. Your assessment performance is usually an indicator of the quality and quantity of practice you've had.

The goal for homework is two-fold:

1. You get to practice the work without fear of a punitive score to your grade. Assessment is driven by what you ACTUALLY know, not what you're learning. We all need time to learn and process. You can now tackle homework without fear. There's no reason to cheat or copy anyone else. If you get the answers wrong or attempt the task incorrectly, you'll get the feedback you need to get it right. But only if you do the homework. I don't give feedback to missing or late work.

2. I get to see how much practice you've done in comparison to your performance. I also get to see a true picture of the whole class so that I can determine if we need to review, reteach, relearn, and reassess.

EVERYONE WINS!

LATE WORK - I will accept late work but only during office hours. This means you have to come to see me and ask me face-to-face to consider your late work. It's important that students at this level take responsibility for their learning. It also gives me a chance for us to talk about why the work is late. I DO NOT ACCEPT LATE WORK 2 WEEKS BEFORE A FINAL GRADING PERIOD.

Let's Talk Grades

Assignments are tracked through Google Classroom and

🚨 Assessments are reported to Aeries.

Once students have been assessed with the 4 level rubric, they are then given a letter grade. Levels of achievement are then given a number and percentage equivalent. You must complete 80% of the curriculum through assessment grades only in order to receive a grade. I can't assess something I have no evidence for. A 55% is the lowest grade a student can receive. This makes your grade "RECOVERABLE" but mathematically, makes it true. A true zero grade is indicative of not turning something in at all, but is still recorded as a 55% percent. Now don't get too excited. You might be thinking...

"Hmmm...so if I do nothing. I still get a 55%? Cool!"

STOP RIGHT THERE! Think about what you just celebrated. You just celebrated an F.

You see an F, is an F, is an F! It doesn't matter if it's a 0% a 32% or a 58%. It's still an F which means the same thing. You failed the objective or the "I can" statement that I gave you. That's all I need to know in order to issue you a grade and assess where you are. All I've done is removed the unrecoverable part of a 50 point spread and made it match the other 10 point spread grades. Assessment in my class is an equitable practice. I'd rather you KNOW you can recover instead of you stressing out or giving up. I CARE ABOUT YOUR SUCCESS. I'm not trying to punish you with a grade. A grade is about WHAT YOU KNOW not anything else in my book. I want it pure of other "punitive'" or "fluffy" factors. So, we work together to make that happen.

Here is this semester's rubric for writing:

Contact Information

Phone: (909) 591-3902 x 4824

Virtual Office Hours: BY APPOINTMENT ONLY!

YOUR CAMERA MUST BE ON TO MEET WITH ME DURING OFFICE HOURS.

Tuesday & Wednesday 2:35 p.m. - 3:00 p.m. (Click here to meet with me virtually)

*Office Hours are Subject to Change

*I am committed to responding to all student and parent emails within 24 hours (during school hours) Monday - Thursday. Friday communications after 1:35 p.m. won't be answered until Monday. Communication of ANY kind, after 4:00 p.m. (M-Th), will be answered the following school day.

MRS. DEMING'S CLASSROOM SUPPORTS

Mrs. Deming believes in supporting and teaching her students with clear and consistent expectations, rules, goals, and modeled behavior. When students master the expectations, rules, and goals of the classroom they are continuously rewarded. Understanding our classroom expectations and following the rules makes being in the classroom fun, safe, predictable, and harmonious.

---

WELCOME BACK TO SCHOOL! It's going to be an interesting year, but we'll do it together! Make sure to click the information tabs on the left of this landing page to get more information about your particular course--I teach A LOT of different classes!
Announcements
For technological difficulties (devices, username/password, online tools) call the CVUSD Hotline: (909) 628-1202 x1080 or email communitysupport@chino.k12.ca.us between the hours of 8 AM and 3 PM, Monday through Friday.

*This hotline and email are NOT for general information or homework help!