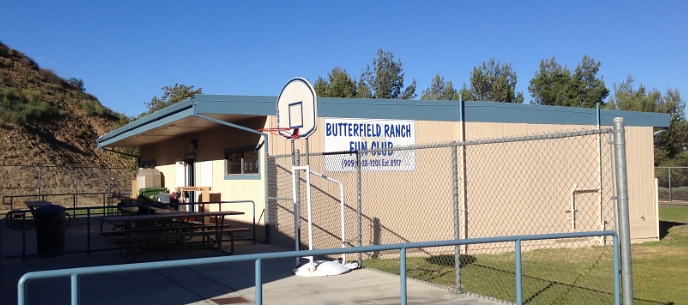 Fun Club at Butterfield Ranch Elementary
Fun Club Parents:

The Fun Club gate will be open at 6:00 AM as always. It will be locked at 7:30 AM to help secure the campus before school starts. If you want to drop your child off for Fun Club between 7:30-8:15 AM, you will need to bring them through the school office. This will be an inconvenience for some, but the safety of our students comes first. Thanks for your understanding and support.

Effective October 1, 2014, tuition payments will no longer be accepted at the Fun Club.

Tuition payments will only be accepted at the Office of Child Care and Development or online.

E-check tuition payments can be made online using the EZChildTrack Parent Portal at

www.ezchildtrack.com/chinovalley

. A username and password must be obtained from the Office of Child Care and Development prior to making your first online payment.

We strongly encourage parents to submit their tuition payments online.

For parents who choose not to utilize the online payment option, tuition fees can be paid by check, cash or money order at the Office of Child Care and Development only.

Our Office has switched to a new accounting system called EZChildTrack.

To log into your parent account, please

2. Click on the link to the right that says "Parent Portal Login".

3. If you had an account in the previous system, you will log in as a "Returning Customer".
CVUSD's Fun Club program is administered by the District's Office of Child Care and Development.

Please click on this

LINK

to view information directly from the District.

Some reminders from CVUSD as of 8/21/2014:

Childcare services are NOT available for kindergarteners on Monday, August 25th. Parents are STRONGLY encouraged to visit the Fun Club prior to their start date. The Butterfield Ranch Fun Club head teacher, Leslie Jolin, will be on-site Monday, August 25th, from 10:00 AM - 6:00 PM, to answer any questions you may have regarding the program.

Fun Club is open daily from 6:00 AM - 8:45 AM and 12:00 PM - 6:00 PM. Fun Club is closed 8:45 AM - 12:00 PM.

Please take the time to introduce yourself to our staff!! All staffs at the Fun Club can be identified by their Chino Valley Unified School District badge that they will wear while at the Fun Club. The Butterfield Ranch Fun Club site supervisor is Leslie Jolin. Ms. Jolin can be reached at (909) 393-5592.

An authorized person (adults 18 years or older, who are listed on the child's Emergency Information) MUST enter the Fun Club to sign your child in and out each day. Valid picture identification is REQUIRED when requested by Fun Club staff.

If you need to make any changes to your current Fun Club contract, please contact the Office of Child Development immediately at (909) 628-1201, Ext. 8917. All changes to your current Fun Club contract must be submitted in writing no later than the Monday before the week of change. A $25 fee is required for ALL changes to your Fun Club contract.

A two-week written notice is required if you decide to cancel your Fun Club enrollment.

Tuition payments are due IN ADVANCE – no later than the Thursday before the upcoming week of childcare. This means your first tuition payment is due Thursday, August 28th!! Please make sure your payments are submitted on time to avoid the automatically assessed $25 penalty fee!

Tuition must be paid in FULL in the form of check or money order at the Fun Club. Please make sure all payments are made payable to Chino Valley Unified School District or CVUSD. The Office of Child Development DOES NOT accept post-dated checks. Cash payments must be paid at the Office of Child Development.

If you have any questions regarding your account, please contact the Child Development Accountant, Haydee Cummings, at Haydee_cummings@chino.k12.ca.us or (909) 628-1201, Ext. 8917.

The Fun Club operates in accord with the 2014-2015 Chino Valley Unified School District Calendar. Fun Club is CLOSED on all non-school days. Tuition IS NOT adjusted when the Fun Club is closed.

Please review your 2014-2015 Fun Club Parent Handbook, as it pertains to important policies and procedures you must comply with. A copy of the handbook is attached for your convenience.

Thank you for your continued support of the Butterfield Ranch Fun Club!

Child Development Staff
Phone: (909) 393-5592
Email:
Degrees and Certifications:
Mrs.

Leslie Jolin

BRE FUN CLUB SITE SUPERVISOR