Welcome to M. Nieblas's Home Webpage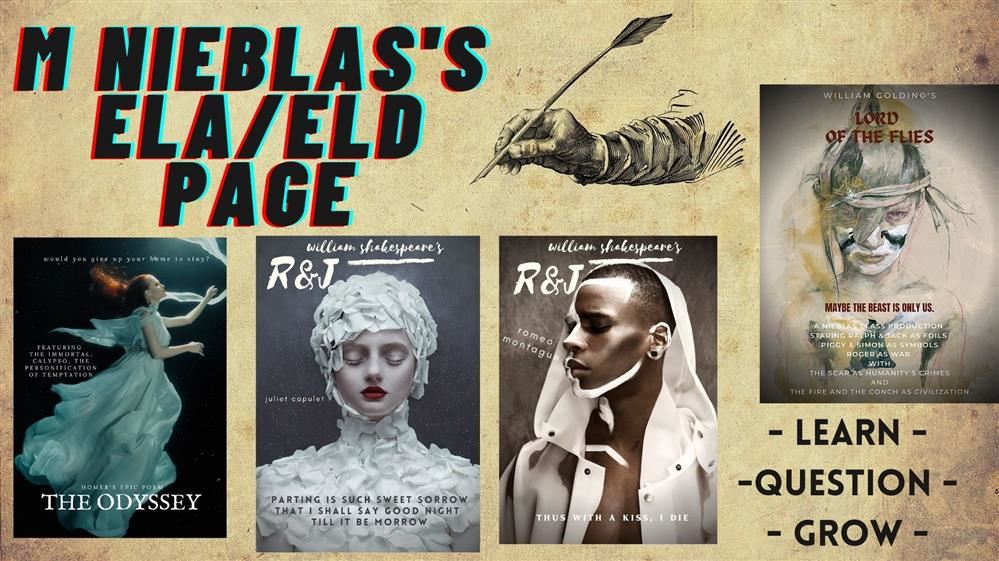 BACK TO SCHOOL--08 AUGUST 2022

Hello to all 9th grade ELA Parents/Guardian/Caretakers!!!





2022-2023 AYALA HIGH SCHOOL 9TH GRADE ENGLISH LANGUAGE ARTS (ELA) SCHOOL YEAR

Hello to All:

This year (2022-2023), we will be utilizing the specific Google Classrooms that will be provided for students enrolled in the course,

ALL assignments, rubrics, and instructions for each course will be posted in the Google Classroom and covered in class on the day of the assignment's introduction.

That said, the year's units will be shared on the tabs to the left. They will be broken up with drop-downs to show (per unit) the assignments, process, and resources for greater understanding.

CLASSROOM BEHAVIOR EXPECTATIONS

ALL students are expected to:

Be kind

Be tolerant

Be supportive

Be prepared

CLASSROOM NORMS

ALL students are expected to:

Be respectful of one another, at all times, in person or not, online or through written/text interaction

Acknowledge one another's vulnerability at learning new concepts and theories and respect those feelings

Show respect by observing one another's perspectives with earnest and providing positive and constructive assistance

Work towards a positive learning collaboration in all assignments

Respect one another's time particularly when scheduling group work and collaborations

Use their time effectively

Submit work online by the due dates, and

Keep communication with the instructor open and honest (when you need help, please ask for it--in person or online)

INSTRUCTIONAL PLANS/ROUTINES FOR THE WEEK

SYLLABI FOR EACH COURSE

The individual course's syllabus has been shared on the Google Classroom under "Classwork/Materials" and also in the dropdown to the left.

Along with the Syllabus, please also find the following vital documents:

Code of Conduct (specific expectations of each student in the classroom as well as while on campus at AHS);

Core Guidelines (an itemized breakdown of expectations and the mutual understandings/upholdings for students regarding Online Persona, Grading, Evaluation, Content Matter, and Norms, to name a few);

A Referential Film List (the list of films that will be utilized to illustrate points in character, theme, symbols, milieu, and additional literary elements referenced or shown for either scenes or stills--no full feature will be shown any of the courses, unless with the express written approval of P/G/C in the form of a permission slip); and

The Signature Page, signed and dated by BOTH the student and parent/guardian/caretaker acknowledging that each of the above is understood and has been reviewed.

Looking forward to a wonderful year of learning, collaboration, and growth,

Nieblas.