Welcome to M. Nieblas's Home Webpage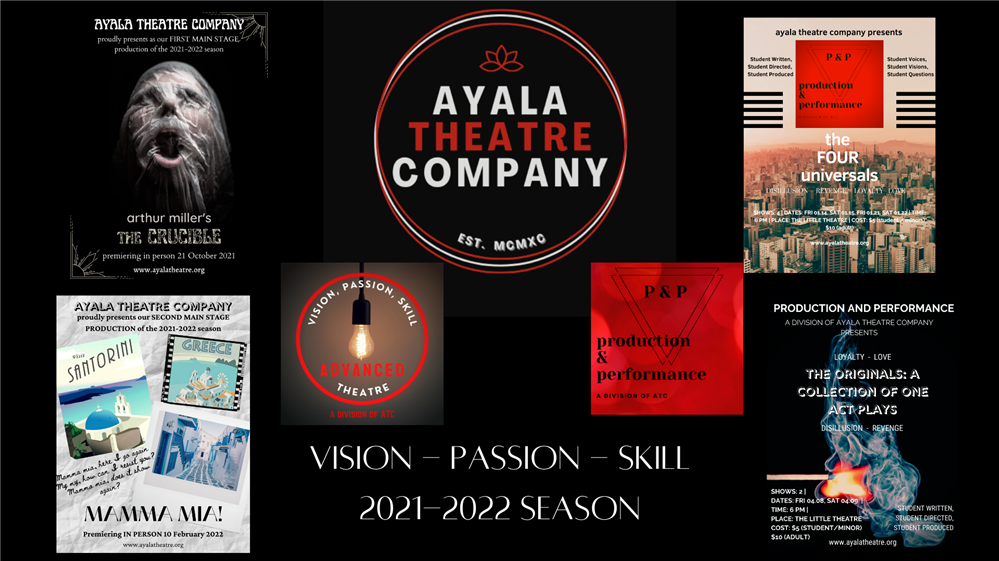 BACK TO SCHOOL--15 SEPT 2021

Hello to all Theatre Parents/Guardian/Caretakers!!!

Tonight is Ayala's 2021-2022 school year Back to School Virtual Night! I am looking forward to meeting those who are able to come!
The schedule is as follows
Period 2--INTRO TO THEATRE--6:00-6:10
Period 3--INTRO TO THEATRE--6:15-6:25
Period 4--INTRO TO THEATRE--6:30-6:40
[NOTE: Any P/G/C who misses their child's Intro class is welcome to join the other times for Intro]
Period 5--ADVANCED THEATRE--6:45-6:55
Period 6--PRODUCTION AND PERFORMANCE--7:00-7:10

We are also thrilled to announce our first showcase of the year: SHINE YOUR LIGHT: A HEATHER'S SHOWCASE, this Friday at 7 pm, in THE LITTLE THEATRE (B140). Tickets are sold at the door.

We are also premiering the Production and Performance Course SHOWCASE: THEATRE WORLD TOUR, next Friday (24 Sept) and Saturday (25 Sept) at 6 pm, in the LITTLE THEATRE (B140). Tickets are sold at the door.

Also, please consider coming to the next THEATRE BOOSTER'S MEETING, OCTOBER 5 in THE LITTLE THEATRE (B140).

Looking forward to seeing everyone at the above as we return to live productions!!!
Nieblas

M Nieblas is inviting you to a scheduled Zoom meeting.

Topic: NIEBLAS_THEATRE_Back to School
Time: Sep 15, 2021 05:15 PM Pacific Time (US and Canada)

Join Zoom Meeting
https://us02web.zoom.us/j/82635314062?pwd=dVFmZm9UL0VYOFJvbzA4ejltTDBtQT09

Meeting ID: 826 3531 4062
Passcode: yBk6Ed




2021-2022 AYALA THEATRE COMPANY (ATC) SEASON

Hello to All:




I am thrilled to announce that this is to shape up to be a very well-rounded and wonderful season, between sparking interests in Performances through Intro to Theatre courses, bringing about a deeper understanding of the foundationals that make up performing drama in Advanced Theatre, and also in the formation of bringing your questions and opinions directly under the lights to inspire in Production and Performance Showcases!

We are also planning multiple Showcases (PnP will host three set ones, along with Advanced; Advanced will plan and produce a Shakespeare Night in May; and our own International Thespian Society will put on their own throughout the season), Two Main Stage Productions, and a few Mystery Dinners!

Please use the taskbar on the left to learn more for each element of Theatre that we have to offer. If you are in a course or club/organization, the majority of the year will be communicated and turned in through the specific Google Classroom associated with the organization. Also, please check out our other platforms, from our official website (www.ayalatheatre.org) to our presence on FaceBook and Instagram.

If you have any questions or concerns, please do not hesitate to email me directly at michael_nieblas@chino.k12.ca.us or stop by the classroom, B140 (The Little Theatre). (PLEASE NOTE: While I strive to communicate and respond to emails as soon as possible, there may be a period of up to 48 BUSINESS HOURS before I am able to respond)

ONLINE GOOGLE CLASSROOMS

This year (2021-2022), we will be utilizing the specific Google Classrooms that will be provided for students enrolled in the course, as well as for the Main Stage Productions, the Theatre Clubs/Organizations (Drama Club and International Thespian Society), and the additional Clubs that I am advisor on (Computer Coding and Astrology). If you want to be a part of the additional clubs, and need the Google Classroom Code, reach out to the Club President/Secretary or come by the classroom.

ALL assignments, rubrics, and instructions for each course will be posted in the Google Classroom and covered in class on the day of the assignment's introduction.

CLASSROOM BEHAVIOR EXPECTATIONS

Ayala Theatre Company Three Bes Matrix


THEATRICAL NORMS

ALL students are expected to:

be respectful of one another, at all times, in person or not, online or through written/text interaction

acknowledge one another's vulnerability at performing and respect those feelings

show respect by observing one another's performances with earnest and providing positive and constructive feedback

work towards a positiove learning collaboration in all assignments

respect one another's time particularly when scheduling rehearsals/collaborations

use their time effectively (as this is a creative course, there are times when discussion, experiment, trial and error, and even play lead toward the finished product; students are expected to be able to explain their creative process if it resembles being off task)

submit scripts electronically at least two (2) calendar days prior to performances in class.

INSTRUCTIONAL PLANS/ROUTINES FOR THE WEEK

Advanced and Production and Performance's Instructional plans for the year, unit by unit have been posted in the dropdown to the left under the respective course as well as on the Google Classroom for each course, by period.

Introduction to Theatre will be updated on the Google Classroom by month and will be updated in the dropdown to the left at the beginning of each calendar month.

SYLLABI FOR EACH COURSE

The individual course's syllabus has been shared on the Google Classroom under "Classwork/Materials" and also in the dropdown to the left. Along with the Syllabus, please also find the following vital documents: Code of Conduct (specific expectations of each student in the classroom as well as while representing ATC); Core Guidelines (an itemized breakdown of expectations and the mutual understandings/upholdings for students regarding Online Persona, Grading, Evaluation, Content Matter, and Norms, to name a few); a Referential Film List (the list of films that will be utilized to illustrate points in character, blocking, theme, movement, voice, and additional Theatrical Elements, referenced or shown for either scenes or stills--no full feature will be shown any of the courses); and the Signature Page, signed and dated by BOTH the student and parent/guardian/caretaker acknowledging that each of the above is understood and has been reviewed.

Best,

Nieblas.