Return to Headlines
Kinder and New Student Registration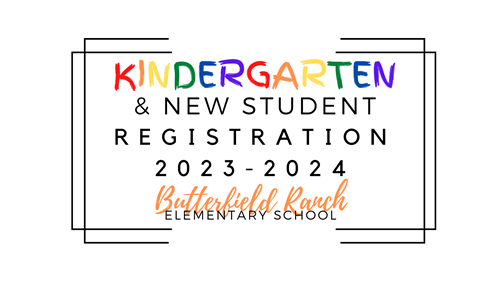 2023 - 2024 Butterfield Ranch Elementary Registration Grades K-6 ~ New Students Only:
January 12th for BRE siblings only from 12:00 - 2:00 p.m.
January 13th Open registration from 8:30 - 10:30 a.m.
If you are registering for Kindergarten:
Student must be 5 years old on or before September 1, 2023
AM kinder is offered based on space available
Important Registration Facts:
On the day of your appointment, please bring the following:
A printout of your completed online registration which can be done here:

https://aeriesweb.chino.k12.ca.us/air/

Immunization Records - Requirements can be found here:

Requirements
Proof of age - we accept Birth Certificate, baptismal certificate, and passports
Proof of residency - Utility bill (gas, water, electric), rental agreement, or property tax statement. Documentation must be in name of the parent/guardian. If you live with the owner, the homeowner must be present with a photo identification at the time of your appointment
TK Information:
If your student turns 5 between September 2, 2023 and April 2, 2024, they are eligible for TK. Please tap this link for more information: https://www.chino.k12.ca.us/Page/47103
TK Registration date TBD, please tap the link above for all information on how to register for TK
Butterfield Ranch will have a TK class for the 2023-2024 school year
Health Center Information:
2022 - 2023 Registrations:
Registration is open all year long
Registrations accepted by appointment only

Registration must be completed online, which can be found here:

https://aeriesweb.chino.k12.ca.us/air/ (

please remember to choose correct school year

)
***Your registration is not complete until all documents have been accepted at the school site during your registration appointment.