Don Lugo athlete alumni honored at rally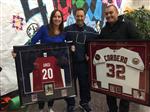 Don Lugo alumni honored with framed jerseys
Don Lugo High honored two of their most famous alumni this morning at a rally on the Chino campus.
Three-time Olympic Gold Medalist Leah O'Brien-Amico (Class of 1992) and former professional baseball player Chad Cordero (Class of 2000) accepted their framed sports jerseys during the rally. The jerseys will hang in the school's front lobby at 13400 Pipeline Avenue.
O'Brien-Amico won Olympic Gold Medals in softball in 1996, 2000, and 2004. She is a two-time World Champion softball player (1998 and 2002) and a three-time National Champion (1993, 1994, and 1997) while at the University of Arizona. She was named one of the California Interscholastic Federation Top 100 Athletes for 100 Years in 2013.
Cordero was a first-round draft pick for the Montreal Expos and had his Major League Baseball debut in August 2003. He had 128 career saves and was named a 2005 National League All Star team member. He was named the National League Pitcher of the Month in June 2005, and led the league in saves that year. Following graduation from Don Lugo, he was a three-year starter for Cal State Fullerton, where he was named a two-time All American team member, and a three-time player for the Big West All-Conference Team.
Pictured: Olympic Gold Medalist Leah O'Brien-Amico (left) and former professional Major League Baseball player Chad Cordero accept their framed sports jerseys from Don Lugo High Athletic Director Joe Marcos (center) at a rally held today (Jan. 15, 2016) at the Chino campus. The two athletes are Don Lugo High alumni.
---