School Board meetings on YouTube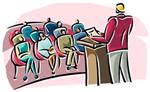 Stay informed by watching School Board meetings
on YouTube
Chino Valley Unified School District is now posting the videos of all School Board meetings to YouTube.
The direct link to the videos is https://www.chino.k12.ca.us/Page/15639.
You can also find the link to the meetings on the District website (under the Board of Education page). The District website is at www.chino.k12.ca.us.
---