Measure G Update No. 2 (Jan. 20, 2017)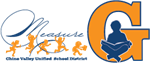 UPDATE
Nº. 2 / January 19, 2017
Presentation to Board of Education
The process of implementing Chino Valley Unified School District's Measure G school construction and modernization bond was briefly explained to the Board of Education Thursday night by bond consultants Robert Barna of Stifel, Nicolaus & Company and Ann Rohlin of Norton Rose Fulbright.
To see the complete update, click here.
To see all the steps of the bond process, click here.
---