Measure G Update No. 4 (Feb. 15, 2017)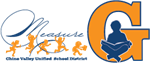 UPDATE
Nº. 4 / February 2017
The Board of Education gave preliminary direction to CVUSD staff in January on implementing the $750 million Measure G school construction and modernization bond approved by voters in November. The following is a tentative schedule of the next steps with regard to the sale of bonds and project schedules under the first issuance of bonds. Dates and events will be updated as they become finalized.
Bond Process

February/March 2017 – Obtain credit ratings



March 16 board meeting - Adopt Resolution to Issue Bonds

Finalize Bond Structure

Print Preliminary Official Statement

Market Credit and Structure to Investors



April/May 2017 – Price Bonds/Sell to Investors

Notify County of Debt Service

Close Transaction and Deliver Bond Funds

Money available for projects
Get Informed, Get Involved
THANK YOU FOR YOUR SUPPORT OF MEASURE G!
(Feb. 15, 2017)
---