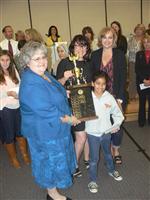 Students tackle more than 3 million pages, raise more than $100,000 in annual Read-A-Thon
More than 3.5 million pages were read by Chino Valley students during the week-long Read-A-Thon sponsored in March by Citizens for Kids Educational Foundation. And Hidden Trails Elementary School in Chino Hills recaptured the top trophy as the school that read the most pages per student.
This year's event raised $103,453. This is the first time in the fundraiser's 10-year history that it has toppled the $100,000 mark, according to Chino Valley Unified School District Board member Sylvia Orozco, who is a long time member of the Foundation and founded the Read-A-Thon. Grand totals in previous years ranged from $62,000 to $97,000, Mrs. Orozco said.
The Foundation's purpose is to supplement the regular funding Chino Valley schools receive.
The Read-A-Thon has now raised approximately $853,000 for the schools, Mrs. Orozco said.
This year, Wickman Elementary School raised the most pledges, $15,244. Following closely behind, was Cal Aero Preserve Academy's elementary students at nearly $12,000.
Proceeds from this year's Read-A-Thon were awarded at the May 7 Chino Valley Unified School District Board meeting to participating schools, based on the money raised at the respective campuses.
Also winning awards that night were the students who took in the most pledges at their schools. They each received a $100 gift card to one of three stores: Target, Barnes & Noble Book Store, or Walmart.
Top pledgers
Hidden Trails sixth grader Ria Patel collected the most money, $1,500. She has also been a top fundraiser in several previous Read-A-Thons.
Students garnering the most pledges and their schools are:
Ruby Landeros, Borba Fundamental School; Emily Darrington, Briggs Fundamental School; Mitchell McAnany, Butterfield Ranch Elementary School; Cameron Cosico, Cal Aero Preserve Academy (elementary level); Bryden Halstead, Cattle Elementary School; Dylan Ellorin Blackburn, Chaparral Elementary School;
Madison Ramirez, Cortez Elementary School; Alexis Villamil, Country Springs Elementary School; Isabella Avila, Levi Dickey Elementary School; Emma Jesse, Dickson Elementary School; Steven Huang, Eagle Canyon Elementary School; Shayne Smith, Glenmeade Elementary School;
Ria Patel, Hidden Trails Elementary School; Sebastian Samayoa, Liberty Elementary School; Malia Ishibashi, Litel Elementary School; Xenia Montgomery, Marshall Elementary School; America Aguayo, Newman Elementary School; Isaiah Wade, Oak Ridge Elementary School;
Jay Mulvihill, Rhodes Elementary School; Hannah Mirasol, Rolling Ridge Elementary School; Juredmie Gonzalez Rodriguez; Walnut Avenue Elementary School; Phoenix Bruun, Wickman Elementary School; Victoria Prouty, Cal Aero Preserve Academy (junior high level); Kenli Wong, Canyon Hills Junior High;
Colum O'Brien, Magnolia Junior High; Abel Diaz, Ramona Junior High; Suzanne Dickerson, Townsend Junior High; and Faith DeJong, Woodcrest Junior High.
In addition, classes that read the most pages at each school won a pizza party from Citizens for Kids Educational Foundation.
A traveling trophy was presented to Hidden Trails Elementary School in Chino Hills as the school with the most pages read per capita: 424.86 for each of its 503 students. Hidden Trails also won the trophy in 2009, 2011, and 2013.
Hidden Trails and Wickman Elementary School, also in Chino Hills, have been battling it out for the trophy since the fundraiser began in 2006. Wickman won the prize in 2006, 2007, 2008, 2010, 2012, and 2014.
Canyon Hills Junior High received the junior high trophy for the most pages read at that grade level, per capita: 266.26 pages for each of its 1,152 students. Canyon Hills was also the junior high champion last year.
The trophies are awarded on pages read per capita to give schools with fewer students and lower donations a chance at the top prize.
The number of pages read at each school site ranged from 18,000 pages to 350,000 pages, Mrs. Orozco said.
The schools and the average number of pages each of their students read are: Borba,100.07; Briggs Fundamental, 145.76; Butterfield Ranch, 176.52; Cal Aero Preserve Academy (elementary level), 268.83; Cattle, 298.85; Chaparral, 292.54; Cortez, 33.29; Country Springs, 394.05; Dickey, 86.51; Dickson, 126.09; Eagle Canyon,154.83; Glenmeade, 146.47; Hidden Trails, 424.86; Liberty, 193.23; Litel, 375.69; Marshall, 67.63; Newman, 135.45; Oak Ridge,194.32; Rhodes, 187.39; Rolling Ridge, 222.85; Walnut, 79.30; Wickman, 373.36; Cal Aero Preserve Academy junior high level), 92.52; Canyon Hills, 266.25; Magnolia, 136.66; Ramona, 71.24; Townsend, 161.98; and Woodcrest, 46.85.
---