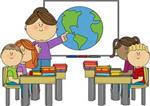 Combination classes reduced through collaboration
The number of combination grade level classes has been dramatically decreased this year, it was announced at the Sept. 3 school board meeting.
This school year, there are 18 combination classes districtwide, compared to 63 combination classes last year.
Superintendent Wayne M. Joseph credited the change to the school board's determination "that children would be first," to the teamwork of teachers and district staff members, and to the superintendent's cabinet members for "crunching the numbers" to make the reduction work.
Two grade levels are combined when there are not enough students in a particular grade to justify hiring another teacher in that grade level.
During the board meeting, Mary Hancock, speaking for her husband Todd Hancock, the president of the Associated Chino Teachers union, thanked district officials for cutting down combination classes. She said the association would continue to help the district in its efforts to reduce those classes.
School board trustee Pamela Feix said teachers helped reduce the combination classes by accepting extra children in their classes.
Board member Sylvia Orozco said it cost the district about $1 million to add extra teachers to help eliminate the need for numerous combination classes.
Board members Andrew Cruz and James Na also recognized the district's efforts to reduce the combination classes.
_______________________________________________________________________