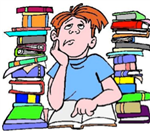 Parent Workshop
Comprehension Parent Workshop
"Mom, Dad, I Can Read it, But I Don't Understand it!"
Dear Parents,
Does your child make these kinds of comments about reading:
It takes me so long to read something. It's hard to follow along with everything going on.
I didn't really get what that book was about.
Why did that character do that? I just don't get it!
I'm not sure what the most important parts of the book were.
I couldn't really create an image in my head of what was going on.
What's the main idea?
If so, please plan on attending our next Parents as Partners workshop!
Reading Comprehension Workshop!!
Date: March 22, 2018
Time: 9am -10:30am OR 6pm -7:30pm
Family Engagement Center, Adult School, Room 25
Purpose of workshop: Learn how to help your child unlock the meaning maze of reading comprehension. Gather some great "learning at home" activities that you can do at home! Come and find out how to help your child with reading comprehension.
Taller para Padres
La Comprensión de la Lectura
¡Mama, Papa, Puedo leer, Pero no lo entiendo!
Estimados padres,
Hace su hijo este tipo de comentarios acerca de la lectura:
Me toma tanto tiempo para leer algo. Es difícil entender todo lo que esta sucediendo.
Realmente no entendí de que se trataba ese libro.
¿Porque hizo eso ese personaje? ¡Simplemente no lo entiendo!
No estoy seguro de cuáles fueron las partes más importantes del libro.
Realmente no podía crear una imagen en mi mente de lo que estaba pasando.
¿Cuál es la idea principal?
¡Si es así, haga planes para asistir a nuestro próximo taller de Padres Como Socios!
Taller: ¡La Comprensión de la Lectura!!
Fecha: 22 de marzo del 2018
Time: 9am -10:30am O 6pm -7:30pm
Centro de Participación Familiar, Escuela de Adultos, Salón 25
Propósito de taller: Aprenda cómo ayudar a su hijo a desbloquear el laberinto de comprensión lectora. ¡Junte grandes ideas para actividades de "aprender en casa" que usted puede hacer en el hogar! Venga y averigüe cómo ayudar a su hijo con la comprensión lectora.