Congratulations Huskies
Chino Hills High Boys Basketball win CIF State Championship.
Congratulations to our All-CIF SS D1 Coach of the Year Dennis Latimore and Assistant Coaches Don Grant, and Mel Sims for coaching and leading our never give up and hard working Chino Hills High Boys Basketball Team to the 2018 CIF State Championship, also Congratulations to Onyeka Okongwu for being chosen as the All-CIF SS D1 Player of the Year, and the recipient of the John R. Wooden Award High School Player of the Year for Division 1. Well done on a great winning basketball season!
Chino Hills High Dance Team Wins Back to Back Championships!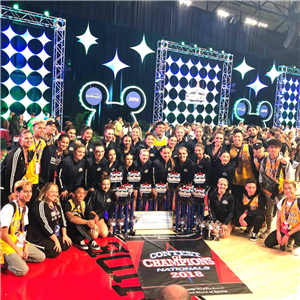 Congratulations to the Husky Dance Team for winning back-to-back championships! The Husky Dance Team won all seven-dance categories at Nationals in Florida and also took seven First Place State Titles at the High Point State Championship. Way to go Huskies!
For additional information on our award winning programs please visit the Husky Howler.
---