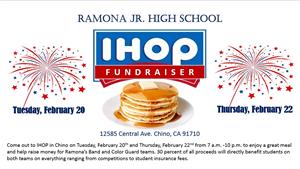 Join us on Tuesday, February 20 and Thursday, February 22nd for Ramona's fundraising days.
30% of all proceeds benefit our Band and Color Guard teams. Don't miss out.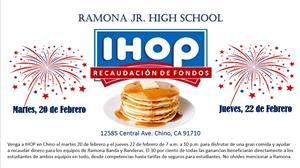 Ayude a Ramona a recaudar fondos para los equipos de Banda y Banderas
al comer en IHOP el martes, 20 de febrero y jueves, 22 de febrero. El 30% de la cantidad que page sera donado a Ramona, simplemente al mencionar a Ramona.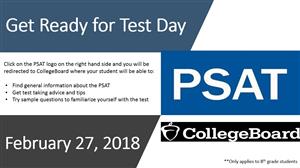 All 8th Grade Students will take the PSAT on Tuesday, February 27.
Click on the image above to be redirected to the CollegeBoard PSAT website.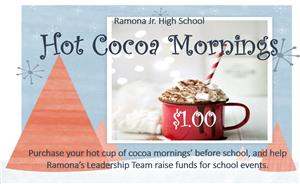 Ramona Jr. High School's Leadership Team is selling hot cocoa
every morning before school for $1.00 to raise funds for school events
.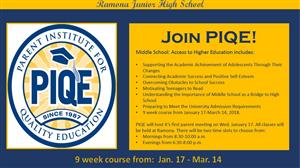 Join PIQE!
PIQE meeting will be held on February 21st.
There are 2 time slots for you to choose from: Mornings 8:30-10:00 a.m. and Evenings 6:30-8:00 p.m.
All parent classes will be held at Ramona, and free childcare will be provided.
Sign in and our office staff will direct you to class.
Forme Parte de PIQE!
La junta PIQE se llevara a cabo el miercoles, 21 de febrero.
Habra juntas en dos horarios, por la mañana de 8:30-10:00 a.m. y por la tarde de 6:30-8:00 p.m.
Todas las juntas tomaran lugar en el campus Ramona. Habra cuidado de niños gratis.
Entre por la oficiná princípal para registrarse.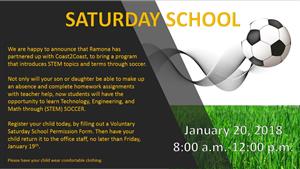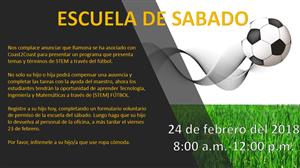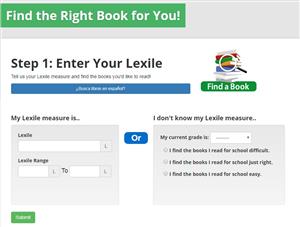 click on the link above to be redirected to LEXILE BOOK FINDER
AVID TUTORS WANTED!
Please click on the link above for more information
Free Medical Care for Children ages 0-21
Click on link above for more details of
services offered and hours open