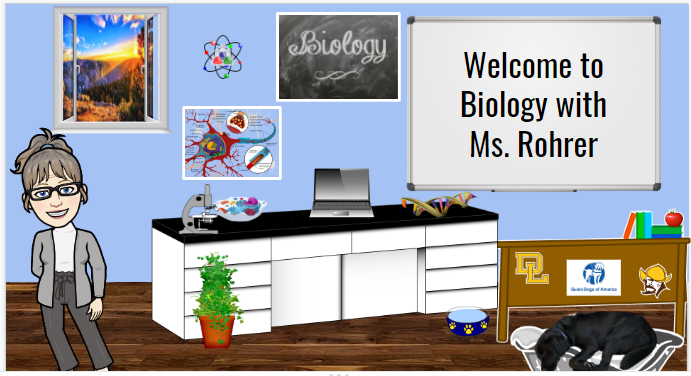 Ms. Rohrer's Blended Learning Classroom

PLEASE BRING YOUR DEVICE AND CHARGER TO CLASS EACH MEETING.

Welcome back to campus!! In addition to announcements made during ON CAMPUS instruction, we will continue using the GOOGLE CLASSROOM for announcements, assignments etc related to your current class unless otherwise noted.

Class Expectations and a Behavior Matrix (expectations) can also be found on this website

Grading

UPDATED GRADES can be accessed via the AERIES PORTAL.

Your Distance learning grade is STILL YOUR GRADE as we return to campus.

The current grading period ends FRIDAY APRIL 9, 2021.

Please make sure you have ALL LATE/MISSING WORK FROM THE GENETICS UNIT (2/6-3/19) 3/SUBMITTED BY THE DEADLINE WEDNESDAY APRIL 7, 2021. AFTER THIS DATE WORK FROM THE GENETICS UNIT WILL NO LONGER BE ACCEPTED FOR CREDIT.

ASYNCHRONOUS LEARNING DURING COHORTS--on asynchronous days students will either be online with the teacher or they must complete the daily attendance assignment as instructed in the google classroom. Teachers must take attendance for ALL students (including those working asynchronously every day). MORE INFORMATION WILL BE AVAILABLE IN GOOGLE CLASSROOM

Contact info:

email: audrey_rohrer@chino.k12.ca.us or via your google classroom

Email will be checked and responded to during regular school hours

PLEASE SEE GOOGLE CLASSROOM FOR ZOOM LINK.

Contact information Email: audrey_rohrer@chino.k12.ca.us or google classroom

Our Zoom Room Information Topic: Ms. Rohrer's Classroom Join Zoom Meeting

https://us02web.zoom.us/j/83931251032?pwd=MDd0dm0ydFU0MlA4ZDVDV0FhdmxZZz09

Meeting ID: 839 3125 1032 Passcode: 6Yyvz7

Virtual office hours


No regular Virtual Office Hours will be available after Tuesday 3/16/21
If special office hours are available: Use the link found on Google Classroom
You may also send me an email with any questions

Technology Support

For technological difficulties (devices, username/password, online tools)
Phone: (909) 628-1202 x1080
Hours 8:00 am - 3:00 pm Monday - Friday
Please note this is NOT for homework help

Grading

Please check Aeries for updates regarding grades (NOT GOOGLE CLASSROOM)

Email Access


Email Ms. Rohrer at audrey_rohrer@chino.k12.ca.us

Upates to the syllabus (reflecting distance learning)

communication with student/parents will be done via aeries, google classroom and email
students will submit work via google classroom and/or email
assessments will be given on google classroom at the end of each unit and/or as scheduled
Ms. Rohrer is an

alumna of Don Lugo High School

and has been teaching Biology at DAL since 1995. She obtained her bachelor's degree in Biological Sciences from the University of California, Santa Barbara and completed her teaching credential at Cal Poly Pomona. To continue her education, Ms. Rohrer earned her master's degree in Education at Cal State San Bernardino. Ms. Rohrer promotes respect, responsibility, and academic achievement in the classroom. She utilizes hands-on activities, visual representations, and various study skills to promote creativity, cooperation, active learning, and an interest in science. Ms. Rohrer was awarded the honor of

Renaissance Teacher of the Year for the 2000/2001 school year and became the Renaissance Coordinator in 2015.

Ms. Rohrer is a volunteer puppy-raiser for Guide Dogs of America in Sylmar, CA.