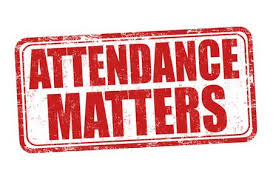 At Don Lugo High School we are committed to providing our students with a quality education. Each student must be in school every day to reach their full potential and attain their educational goals. To make expectations clear and work more effectively with our students and families, we have provided you with the following information regarding attendance policies Attendance office hours are 7:30am to 4:30pm daily.
You have 5 days to clear an absence through the attendance office. Absences can be cleared using the following methods:

Email our Attendance Clerk

s

Write a note and send it with your student. Notes should include the student's full name, student ID number, grade level, the date(s) of the absence, the reason for absence, and it must be signed by a parent.

Call the attendance office @ 909-591-3902 X 4760

Aeries Parent Portal responding to notifications

Please be aware when calling in, you may experience delays when calling right before school or at lunchtime due to a high volume of activity during those times.

Absences over 10 days in a school year will require verification from a medical professional (Doctor's note)

No students will be signed out between 2:45pm–3:22 pm on a regular school day.

Early Check Out Procedures

If your student needs to leave campus during the school day, they must be signed out through the attendance office by a person listed on their emergency card PRIOR to leaving campus.

Students can only be signed out of school.

Anyone who checks a student out of school must show a valid ID.

The person listed on the emergency card must come to the attendance office to check student(s) out for the day.

Absences not verified within 5 days or absences due to not following proper check-out procedures, regardless of the reason, cannot be cleared.

Students with 3 full day unexcused absences, or 3 unexcused single period absences on separate dates are considered truant.

You WILL receive truancy calls if your student(s) have 3 or more absences are recorded as unverified/unexcused.

Saturday school will be assigned to ALL students with unexcused full day absences. Please see the Saturday School tab for more information.

Students must be in their assigned classroom when the tardy bell rings. Students who come to class after the tardy bell and are not in possession of a valid tardy excuse issued through the attendance office will be marked tardy. Tardies are counted on a semester basis.

Información General de Asistencia

En la Escuela Secundaria Don Lugo estamos comprometidos a brindarles a nuestros estudiantes una educación de calidad. Cada estudiante debe estar en la escuela todos los días para alcanzar su máximo potencial y alcanzar sus metas educativas. Para aclarar las expectativas y trabajar de manera más efectiva con nuestros estudiantes y familias, le proporcionamos la siguiente información sobre las políticas de asistencia:

El horario de atención de la oficina es de 7:30 am a 4:30 pm.


Tiene 5 días para aclarar una ausencia a través de la oficina de asistencia. Las ausencias se pueden borrar usando los siguientes métodos:

Envíe un correo electrónico en línea a nuestros dos empleados de asistencia Elizabeth_e_lopez@chino.k12.ca.us y Maria_paredes@chino.k12.ca.us

Escriba una nota y envíela con su estudiante. Las notas deben incluir el nombre completo del estudiante, el número de identificación del estudiante, el nivel de grado, la(s) fecha(s) de la ausencia, el motivo de la ausencia y estar firmadas por uno de los padres.

Llame a la oficina de asistencia @ 909-591-3902 X 4760
Tenga en cuenta que cuando llame, puede experimentar demoras cuando llame justo antes de la escuela o a la hora del almuerzo debido a un gran volumen de actividad durante esos momentos.

Usando su Portal para Padres de Aeries respodiendo a las notificaciones de ausencia.

Las ausencias de más de 10 días en un año escolar requerirán la verificación de un profesional médico (nota del médico)

No se firmará la salida de ningún estudiante entre las 2:45 p. m. y las 3:22 p. m. en un día escolar regular.


Procedimientos de Salida Anticipada


Si su estudiante necesita salir de la escuela durante el día escolar, una persona que figura en su tarjeta de emergencia debe firmar su salida a través de la oficina de asistencia ANTES de salir del campus.

Cualquiera que saque a un estudiante de la escuela debe mostrar una identificación válida.

La persona que figura en la tarjeta de emergencia debe presentarse en la oficina de asistencia para verificar la salida del estudiante por el día.


Las ausencias no verificadas dentro de los 5 días o las ausencias debidas a no seguir los procedimientos de salida adecuados, independientemente del motivo, no se pueden borrar.

Los estudiantes con 3 ausencias injustificadas de un día completo o 3 ausencias injustificadas de un solo período en fechas separadas se consideran ausentes.

Recibirá llamadas de ausentismo para su estudiante si se registran 3 o más ausencias como no verificadas/injustificadas.

La escuela de sábado se asignará a TODOS los estudiantes con ausencias injustificadas de día completo. Por favor vea la pestaña Escuela de los Sábados para más información.

Información sobre la Política de Tardanzas

Los estudiantes deben estar en su salón de clases asignado cuando suene la campana de tardanza. Los estudiantes que lleguen a clase después de la campana de tardanza y no estén en posesión de una excusa de tardanza válida emitida a través de la oficina de asistencia serán marcados tarde. Las tardanzas se cuentan semestralmente.